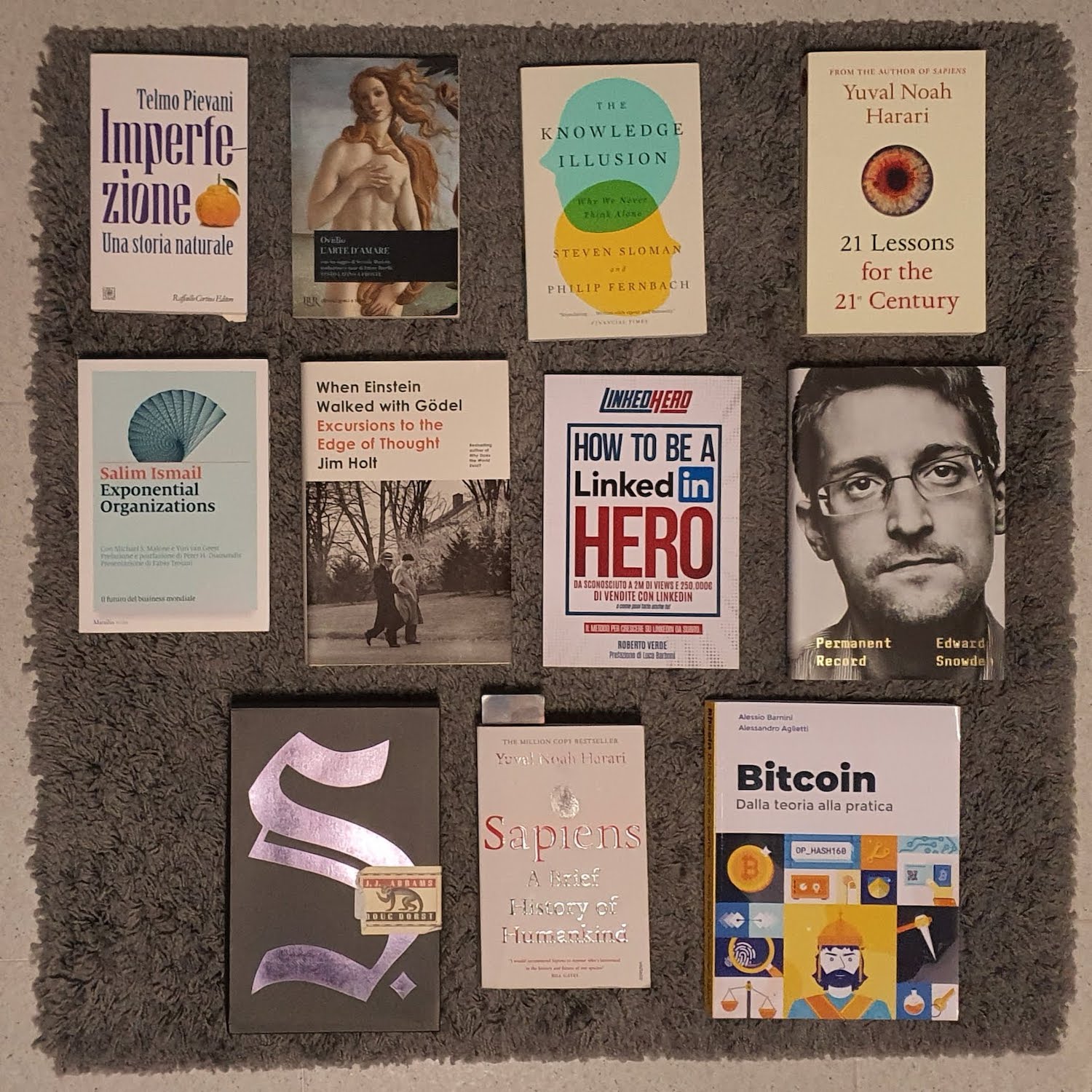 Le mie letture del 2020
Reading Time: 4-5 minutes
Il 2019 è iniziato, e io ho finito di leggere un libro iniziato poco più di un anno fa: BIG Hot To Cold, di Bjarke Ingels. Per i prossimi 12 mesi mi sono ripromesso di leggere 3 libri in meno rispetto al 2019 perché devo concentrarmi molto di più sul finire gli ultimi esami universitari. Ho comunque già preso tutti i libri che leggerò in questo 2020. Alcuni sono nella foto in copertina, mentre gli altri, meno 'belli da vedere', ho preferito comprarli solo su Kindle.
Questi i 15 libri che leggerò in questo 2020:
Classici
Business
Filosofia
Tecnologia
Cultura
Storia
Community
Romanzi
Ogni anno cerco di non concentrarmi nel leggere solo quello che mi serve, ma anche quello che mi piace e, perché no, quello che mi potrebbe servire, che mi incuriosisce. È per questo che nella lista c'è Ovidio, ma anche Pievani e J.J. Abrams. Mi piace poi, anche se non mi serve davvero tantissimo, andare a fondo di alcuni concetti. Ed ecco quindi il libro di Martin Ford, Architects of Intelligence, che racconta come funziona nel dettaglio l'intelligenza artificiale, da chi la sta creando. E poi ci sono i libri sulle community (credit: @rainbowbreeze), che sono il volano principale di tutti i business al giorno d'oggi - e del mio lavoro in Campus Party.
Secondo me, i libri sono l'occasione che abbiamo per sfidare noi stessi senza rischiare. Sfidarci a leggere qualcosa di complesso, di non facilmente comprensibile o di lontano dall'immaginario comune della fetta di popolazione di cui facciamo parte. Acquistare tutti i libri prima dell'anno e scrivendo questo post, sto creando un commitment con me stesso nel leggerli durante l'anno. Per non fare una figura di m***a a fine anno, soprattutto.
L'inizio dell'anno è quel momento in cui tutto è in discussione e si possono prendere le decisioni che modelleranno il nostro anno e, in qualche caso, anche gli anni a venire. È la lettura è una gran parte di questa scelta.
Buy me a coffee @ home